Mesotherapy in Toronto is a revolutionary and innovative treatment that helps people in the city feel better about their appearance. Well known for its ability to fight the visible signs of aging on the skin and face, skin care clinics in Toronto also use mesotherapy for hair loss. The advanced treatment helps restore hair growth for a healthier and more youthful look and feel.
A UK study found that mesotherapy for hair loss was approximately 48% more effective than alternative hair loss treatments such as minoxidil or finasteride, which only had a 12% chance of inducing hair regrowth in comparison.
At IGBeauty, we use strategic techniques and advanced equipment like the U225 Mesogun for the best mesotherapy in Toronto.
To learn more about how mesotherapy for hair loss works, read on.
Why Reverse Hair Loss?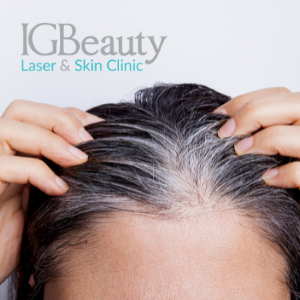 Hair loss and alopecia is a common symptom of aging, hormonal changes, lack of vitamins and
microelements frequently seen in men and women. Finding a solution to hair loss independently is often frustrating since many store-bought products fail to effectively stimulate new hair growth. For those suffering from hair thinning and alopecia, IGBeauty offers a tried and tested hair loss treatment in the form of mesotherapy in Toronto to help you feel like your best self.
What is Mesotherapy?
Mesotherapy is a type of non-invasive treatment offered at skin care clinics in Toronto, where active ingredients are injected into the outer layer of the skin. The active ingredients are called a "mesococktail" and are made of hyaluronic acid, vitamins, amino acids, peptides, microelements, and even platelet-rich plasma.
How Does Mesotherapy for Hair Loss Work?
During a mesotherapy treatment session, active ingredients are superficially injected into the scalp, targeting hair follicles. The mesococktail works to stimulate inactive hair bulbs, enhance nourishment to the scalp, and it can even minimize dandruff.
Benefits of Mesotherapy in Toronto
Scalp Rejuvenation: Mesotherapy for hair loss improves the health of the scalp by providing nourishment. It allows for healthier skin and improved blood flow.
Reduce Inflammation: The scalp tends to be dryer and easily inflamed from hair chemical, biological, and environmental factors. Mesotherapy at a trusted skin care clinic in Toronto results in better-hydrated scalps with a regulated pH.
Safe & Pain-Free: Compared to invasive hair loss treatments, mesotherapy is low risk and pain-free, especially when performed by a trusted skin care technician.
How Many Sessions Does Mesotherapy Require?
In every person, the health of the scalp and hair follicles vary. The number of sessions you require will be determined by your specialist. Because of the hair growth cycle, results can take at least 3 to 4 weeks to appear. But in some cases, patients have reported new hair growth within a couple weeks of treatment.
Visiting Skin Care Clinic for Hair Loss
You may be able to find at-home mesotherapy needles or solutions online or in some stores, but mesotherapy is a strategic treatment that requires skill and training. As such, the best mesotherapy in Toronto should only be performed by a reliable and trusted skin care professional at a skin care clinic in Toronto.
Contact us today to learn more about skin care and hair loss treatments at IGBeauty.