Mesotherapy treatment is a non-surgical technique that uses micro-injections on the epidermal layer of the skin. Mesotherapy for face or skin includes high-grade active ingredients, like vitamins, hyaluronic acid, peptides, amino acids, antioxidants, and platelet-rich plasma that are injected into the skin, allowing for rejuvenated, tighter and more hydrated skin. Mesotherapy for hair has been highly effective in treating alopecia, improving hair quality, and is used as an enhancing treatment after hair transplants. At IGBeauty, a leading laser & skin care clinic in Toronto, our specialists offer results-oriented mesotherapy treatments for women and men.
Continue reading to learn all the ways you can benefit from mesotherapy in Toronto.
Benefits Mesotherapy for Face or Skin
Whether you're looking to get rid of your acne or tend to your wrinkles and fine lines, mesotherapy for face and skin is a great option. With high-quality ingredients, mesotherapy is used to improve conditions like acne, scarring, hyperpigmentation, sagging skin, stretch marks, wrinkles and fine lines, and dehydrated skin on your face or other areas of the body.
Benefits of Mesotherapy for Hair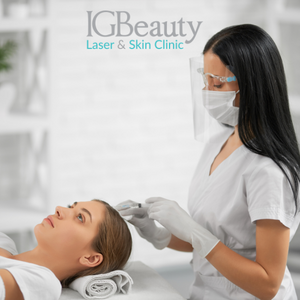 Mesotherapy for hair offers tremendous benefits like reducing dandruff, protective treatment after a hair transplant, slowing down hair loss and thinning, painless process, and neutralizing excess DHT (dihydrotestosterone), which allows hair roots to resume their normal life cycle for prolonged health and growth.
The professionals at IGBeauty can quickly identify any problem areas or conditions with your skin or hair, providing the best treatment options for you and your needs.
Confidence: In addition to quick results and recovery, mesotherapy can provide confidence in how you look and feel. Whether your mesotherapy treatment targets your hair or skin, enhancing and improving those two essential features of yourself significantly improves self-esteem. Rejuvenate and repair your skin with mesotherapy treatments from IGBeauty and start feeling confident in no time!
Fast Recovery: Work and responsibilities come with busy lives, and the last thing you want is to deal with a long and painful recovery process on a noticeable part of your body, like your hair or face. Though there are two types of mesotherapy services and the results differ, both are minimally invasive, enabling short recovery times and fast results.
Mesotherapy Technology & Recovery at IGBeauty
U225 Injector by Needle Concept: A series of 4-6 treatments are required to receive optimal benefits, with an interval of 2 to 4 weeks between treatments. After your treatment, you may look slightly red, but it will calm down after a day or two. If your treatment was done in a specific area, it's common to notice needle marks or scabs. Rest assured, it should only take 1-2 days to subside, and you'll be feeling and looking great in no time.
The eDermaStampⓇ by DermarollerⓇ: The severity of your recovery will depend on how intense the treatment was; however, 2-4 sessions that are 10-12 weeks apart is when you should start to notice results. You should expect 3-5 days of recovery time and can expect fluid accumulation and redness to follow. It's common to see pink or red hues and swelling, which is more noticeable on the second day. No need to worry; your skin or scalp will return to its standard colour around the 3rd day.
Mesotherapy in Toronto
IGBeauty is a high-end laser and skin clinic in Toronto with over 25 years of combined experience in the healthcare, skincare, and wellness industry. With notable experience in medical aesthetics, we have curated a team of professionals that includes a Medical Doctor, Registered Nurse, Medical Estheticians and Laser Technicians. Our team is dedicated to constantly learning and growing, so we take courses and training modules regularly, keeping us ahead of medical advances and the newest technologies available.