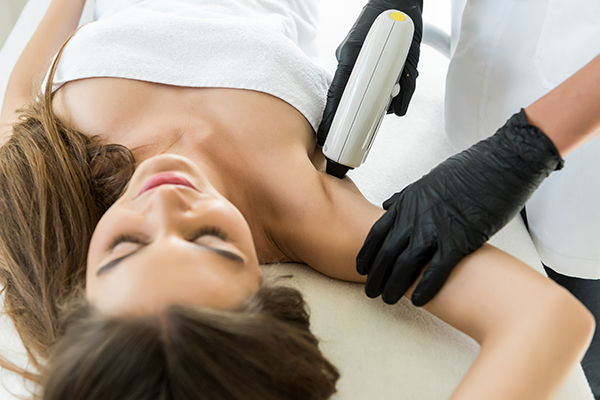 Let's talk about laser hair removal prices. Upfront, it seems like an expensive and large investment. But with a one time cost - once the prices are broken down, you realize the one time cost of a treatment is extremely reasonable. In comparison, with waxing, you consistently pay each time you go and for some, that can be around once a month, not to forget the consistency of purchasing hair removal creams and razors for shaving. However, it may be time to think of laser hair removal as a beneficial hair removal investment—an investment in self-care for you.
How Does Laser Hair Removal Work & What Are Its Benefits
Laser aestheticians perform laser hair removal treatments, and it's a quick and effective procedure. Within 30 minutes, your session is usually over, depending on how many body parts you are treating at a time. The laser targets your hair follicle, and each treatment the laser penetrates the follicle until it can no longer produce hair and slows down the growth cycle.
The hair pigment attracts the laser, and that is why experts ask not to wax before your appointment (waxing removes the entire follicle). In fact, they will often recommend you shave before your appointment allowing for a clear view of the hair follicle for removal.
Less Painful and More Effective Than Other Hair Removal Techniques
Laser hair removal targets the hair follicle and doesn't damage your surrounding skin. Yes, you may feel slight tingling or redness after treatment, but you will not be suffering from ingrowns or razor burn anymore. Patients also notice results fairly soon after their first or second appointment.
Laser Hair Removal Costs By Body Part
The price of laser hair removal sessions greatly varies on the size of the targeted area, the difficulty of reaching the area, and the amount of time that area requires per treatment. Generally, the smaller body areas like underarms are less expensive than lower legs or full back hair removal. Still, it's understandable why you may think laser hair removal costs are expensive. That's why we are going to help break it down treatment by treatment to give you a clearer understanding of IGBeauty's laser prices.
Price Breakdowns at IGBeauty Laser & Skin Clinic
Face
Between the eyebrows - $175 (package of 5 treatments)
Upper and lower lip - $225 - (package of 5 treatments)
Half face (ball of chin, sideburns, cheeks, upper lip, ball of the chin) - $750 (package of 5 treatments)
Upper Body
Fingers or hands - $225 (package of 5 treatments)
Underarms - $375 (package of 5 treatments)
Lower arms - $750 (package of 5 treatments)
Full back - $925 (package of 5 treatments)
Lower Body
Lower legs - $750 (package of 5 treatments)
Upper legs $925 (package of 5 treatments)
Full legs - $1250 (package of 5 treatments) (big savings to buy the full leg package!)
Ways to Reduce Laser Hair Removal Costs
Buy Treatments in Bundles
At IGBeauty, if you buy packages of three treatments, you save up to 10%, and if you buy a package of five, you save up to 20%.
Wait For a Holiday Promotion or a Sale
Some clinics offer holiday promotions and occasional discounts on their services. So be on the lookout for deals for laser hair removal to save on upfront costs.
Get in touch with the experts at IGBeauty Laser & Skin Clinic in Toronto
Speak with our experts to find the right combination of packages for you. Combine treatments to save costs on laser hair removal. Think long-term. Invest in laser hair removal now, and enjoy a hair free body for life. Book a call here, or schedule a consultation.