Even if no one else around you notices blemishes or imperfections on the skin, blemishes or imperfections, especially around the face, can be difficult to manage personally and socially, causing feelings of insecurity and frustration. Many people try topical products, cleansers, and serums to try and solve a range of common skin afflictions. One of the most innovative and reliable methods of solving these problems is mesotherapy for the face. Mesotherapy in Toronto is a skin rejuvenation technique developed over 6 decades ago that helps people fall in love with their skin again.
Supplying the skin with active ingredients is one of the most significant challenges facing professionals. Hyaluronic acid, vitamins, minerals, and most amino acids and beneficial substances for the skin, but they cannot be diffused into the deep layers of the skin, so the best skin care clinics in Toronto use microinjection and micro-perforation similar to microneedling to supply the epidermal with these substances. At IGBeauty, we use the U225 meso gun for mesotherapy for the face. It uses acupuncture-like needles to gently deliver the meso-cocktail to the middle layer of the skin.
If you have a skin concern you can't solve, read on to learn how mesotherapy for the face at IGBeauty can help you.
Acne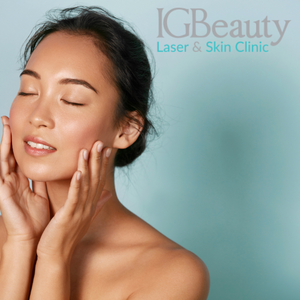 One of the most commonly experienced and most frustrating ailments is acne. For those who have had the struggle of congested skin and breakouts following them into adulthood can skip the frustrating and tedious over-the-counter products and leverage mesotherapy for the face instead to improve the clarity of your skin and reduce the onset of acne.
Our special acne meso-cocktail consists of strategically chosen hyaluronic acid, Pyruvic Acid, Zinc, Niacinamide, Melilotus, Taurine, and Peptides, targeting and slowing sebum production, bacteria proliferation, and inflammation, thus preventing pore-clogging and breakouts.
Hyperpigmentation & Skin Tone
Many patients visit a skin care clinic in Toronto, hoping to even out their skin tone and brighten their complexion. Usually, this problem of dull-looking skin or dark spots results from hyperpigmentation – patches of skin that appear darker than the rest of the skin due to excess melanin production in the area. This is typically made worse by hormones, acne, or even sun or UV (ultraviolet light) exposure which triggers melanin production. Mesotherapy in Toronto at IGBeauty delivers our meso-cocktails, complete with hyaluronic acid, amino acids, vitamins, growth factors and peptides, into the middle layer of skin, reducing the activity of melanocytes, hydrating and biting the skin to stimulate new cell turnover and collagen production in the affected area. After a few sessions at a trusted skin care clinic in Toronto, mesotherapy for your face will significantly fade unwanted pigmentation.
Cellulite
While cellulite is prevalent, it still makes people uncomfortable around the summertime when it's time to go out and bare their skin. Where many topical treatments fail, mesotherapy in Toronto is a great way to target cellulite and generate actual, long-term results.
Mesotherapy cocktails ingredients include Carnitine, Caffeine, Vitamin B5, Cynara scolymus, Centella Asiatica, Melilotus officinalis, Hesperidin, Rutin, which targets fat cells near the surface of the skin that causes unusual scarring, and cellulite appearance. This triggers ​​lipolysis, increases blood circulation and lymphatic drainage, and strengthens capillaries, inducing the death of those unwanted fat cells. Paired with hyaluronic acid and new cell production, cellulite will inevitably fade.
Aging: Fine Lines & Wrinkles
One leading cause of visible aging is the reduction in collagen production over time. Collagen and elastin are responsible for the skin's elasticity. As its production slows with age, fine lines and wrinkles inevitably form. The U225 meso gun with nappage technique and penetration of specific meso-cocktails used during mesotherapy for the face stimulates collagen production, sending a signal to your body to repair the area with more collagen, reversing the signs of aging and slowing the loss of collagen.
Dehydration
Hydration is key to healthy-looking and feeling skin. Unfortunately, many people don't know how to hydrate their skin and maintain moisture, particularly in the summer or after air travel. Water is essential to hydration, but once your skin feels dry or dull, you can boost hydration with mesotherapy in Toronto. If the texture of your skin becomes rougher and less soft, hyaluronic acid, vitamins, and amino acids restore that feeling of hydration, quenching your skin's thirst for fresh and brighter skin.
If you're interested in rejuvenating your skin with mesotherapy in Toronto, visit IGBeauty.
Call us today to set up a consultation.